With the changes in technology, the buying behavior of customers has also transformed. Online shopping gives people more choices. People are choosy about where to shop and what to shop. They spend more time shopping, from the comfort of their homes.
There is a remarkable bit of information about PrestaShop wholesale module. By 2023, the market for B2B digital sales will be worth $1.9 trillion. This will topple B2C market. B2B growth will be 200%, up to 2023, as compared to B2C growth. The trend had already caught momentum by 2020.
The B2B market is driven by savvy business buyers. They find the internet to be the best place to research and compare products, and buy with a single click operation.
Some, challenges are, however, present in the online B2B market as well. But to thrive and succeed, it becomes a must to make a switchover to the B2B online market. The recent COVID-19 outbreak has given a further impetus to this trend.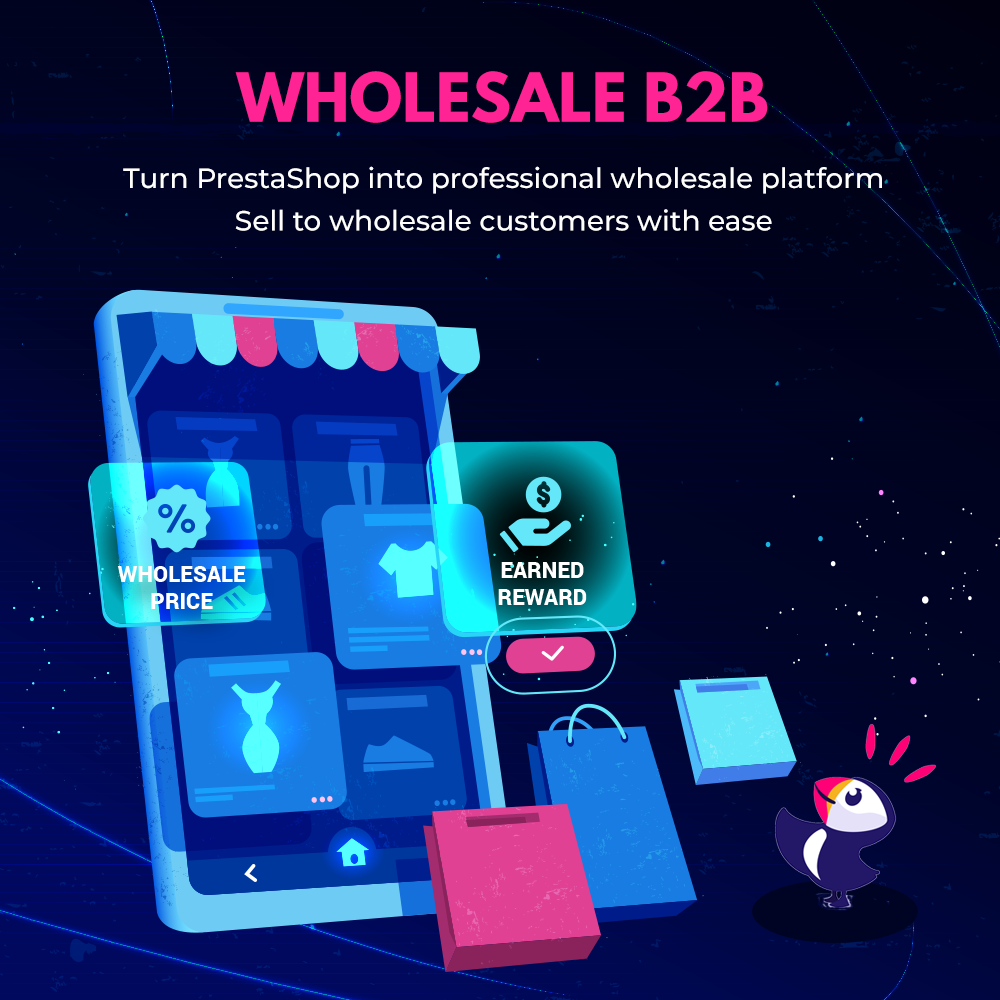 If the switchover to eCommerce solutions is made properly, it will generate new market and add to the customer delight. Furthermore, the operations will also be streamlined, with lower costs and higher revenues.
However, if an enterprise fails to make a switchover to eCommerce well in a timely fashion, they stand to lose their competitive edge and market advantage.
Let us take a look at the top 5 ways in which eCommerce will empower the wholesale business across the years to come:
Customer Experience (CX) will be more important than it has ever been earlier
B2C buyers always expect to discover an intuitive and efficient online experience, irrespective of the merchant from whom they purchase. As per the results of a recent survey, 36% of B2B eCommerce enterprises have prioritized the requirement to present better responses to customer requests. They should be able to shop from anywhere they like from the device of their choosing, seamlessly across all devices that they use.
37% B2B eCommerce firms believe that the primary challenge that they are encountering through this time is to create such a shopping experience for the end customers that differentiates them from their competitors. When the customer experience is personalized, it becomes memorable. Customer loyalty and satisfaction are herein accentuated.
Omni-channel B2B sales iteratively become difficult to manage
With the increase in spending for omni-channel customers, the winning edge will shift to wholesalers and their suppliers. As per a recent survey, the customers who shift in their buying patterns from offline to multiple channels end up buying more. Across the years to come, we will witness a streamlining of top B2B mobile eCommerce solutions. The processes for omni-channel B2B sales will be differentiated for wholesalers and brands alike.
When we compare these b2B buyers with single-channel buyers, they are likely to make additional and more frequent purchases while staying loyal. Wholesalers will hence benefit.
Tapping new markets
The distribution market has already made a shift to online channels. This will make the current market more robust. New markets will hence be in the reach for all sellers, retail and wholesale. With an integrated solution for b2B eCommerce, the business can grow better.
A merchant can hence reach out to customers at different geographical locations, where marketing products to them never used to be cost effective earlier. Barriers of multi-currency, multilingual and native tax can hence be overcome.
Mobile first is the way ahead
eCommerce is fast going mobile, because a majority of customer interactions with search engines take place over mobile devices. Most consumers shop for eCommerce goods over mobile phones as well. Correspondingly, all apps that are nowadays created are created such that they can handle sales, returns, promotions and order tracking more easily. The advantage that comes with using mobile devices is that clients can link with wholesalers more easily. This saves time and resources for both parties.
Sales representatives can help get your message across
When selling at a storefront, it is difficult to convince retailers to start making purchases online. But, the significance of buying and selling online cannot be avoided, in the light of the COVID-19 outbreak.
Self service is unlikely to attract retailers at first, because they are used to getting customer service. But sales representatives should be nurtured into the role of convincing retailers to buy online. They already maintain an intimate relationship with the retailers.
A sales representative can convey to the retailers the advantages of buying online. They can also provide some training to the retailers about the ways to shop online. This way, the retailers can derive the maximum value from all online offers or trade promotions that you currently run over your eCommerce store. This becomes an example of extreme customer service.
Sales representatives, on their part, can receive feedback from the retailers in real time regarding their experience over your online storefront.
Conclusion
While you have already made an investment towards the B2B eCommerce platform, you are lagging behind your competitors. As per a recent study by Accenture, 86% B2B eCommerce companies from the US, whose annual revenue is over $500 million have implemented B2B eCommerce solutions already. The best time to take your B2B business online is now, without leaving it in the to-do list. As a unified experience is achieved across sales channels, it yields additional control for a B2B business owner. He can make the best of his network of retail customers and distributors.